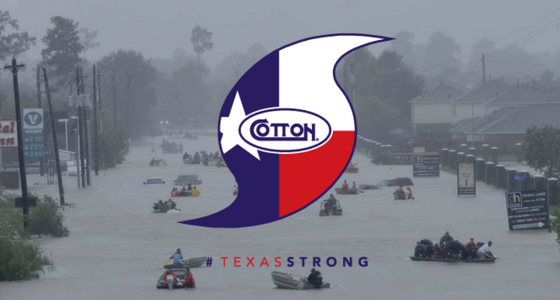 Hurricane Harvey Update
September 12, 2017
As we continue to assess the aftermath of Hurricane Harvey, it is with a heavy heart I write this memo. The thoughts and prayers of the entire Cotton Team are with all those affected by this storm.
The storm and its resulting damage has had a tremendous impact on Houston and the Texas Gulf Coast Region, and the cleanup effort in the affected areas will be formidable. The Cotton Team is already hard at work confronting this challenge.
The Texas Gulf is our home. It is where Cotton began and where our home office and largest presence remains. Every day we see the impact of this storm on our neighbors, friends, and family. We also appreciate the trust that you have placed with us over the years. Let me assure you, the Cotton Team is focused on responding to our clients' needs in the fastest, most efficient way possible.
Cotton is working with our clients to assess their property damage, mitigate any further damage, and provide clean up assistance in accordance with environmental protocols. Cotton is also preparing to provide construction services to help our clients rebuild. Finally, Cotton is hard at work providing "outside the box" solutions to the food, housing and logistical support needs of clients, including the local, state and federal personnel working tirelessly to assist those in need.
We know Texans are proud and resilient, and we will come back stronger than ever. On behalf of myself and the rest of Cotton Team, we stand ready to assist as we clean up and rebuild our home!
Pete Bell
CEO, Cotton Holdings