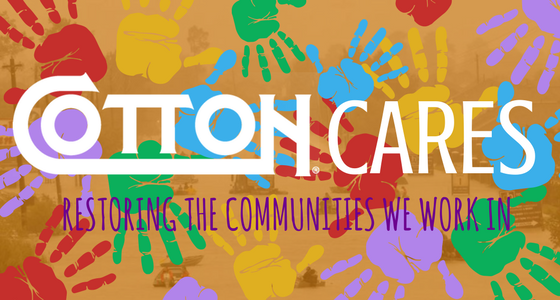 Cotton Cares
After times of tragedy, the Cotton Foundation steps in to assist the communities we work in
Cotton has been humbled by the immense support that Houston and the greater Gulf Coast region has received locally and nationally in the form of monetary donations, food, water, clothing, school supplies and other needed goods. When times of tragedy occur, the Cotton Foundation also steps in to support the local communities we work in, providing aid beyond Cotton's core restoration services.
Last month, Cotton Ranch Events partnered with Foxmark Corporation to store and distribute donations that were driven 1200 miles all the way from Illinois! Concerned citizens and volunteers from the generous community of Orland Hills rallied together and collected enough water, cleaning supplies, toiletries and household goods to fill six trucks! Because of their efforts, families from a local school district received critical items needed to help them through their recovery.
Additionally, Cotton has partnered with Team Never Quit on Operation 100, a home restoration project for a United States military veteran whose home was severely flooded, forcing him to relocate days before his 100th birthday. Construction is scheduled to be completed in the next couple of weeks and we are honored by the opportunity to give back to this local hero who served our country so selflessly.
Ahead this weekend, Cotton Ranch Events is hosting Renewal Day, a collaborative effort by various charitable and corporate partners in Houston to provide clothing to local professional women who were impacted by Hurricane Harvey. A city-wide wardrobe drive was organized and hundreds of new or nearly-new suits, business-appropriate apparel and accessories were collected. The complimentary shopping event will be held at Cotton's World Headquarters in Katy, Texas on Sunday, October 15th. We encourage women in the community to spread the word to those in need to give them a day of renewal and hope for tomorrow. Details can be found at renewinghopeafterharvey.com.
Other projects and events are in the works for the foreseeable calendar. The Cotton Foundation is actively raising money to distribute gifts this Christmas to children who lost their toys and belongings as a result of the flooding. Tax deductible donations received on our Cotton Foundation website between now and mid-December will be allocated for this purpose. If you know of a family in need, please contact Julissa Duran at julissa.duran@cottonteam.com so that they might be considered.
Stay informed of our various community events and fundraising opportunities through our website: cottonfoundation.com; and our Facebook page: facebook.com/cottonfoundation.