ONE CALL. ONE TEAM. TOTAL RECOVERY.
The Cotton Companies are your one source for total recovery and turnkey services including property restoration and recovery, construction, roofing, consulting, workforce staffing, temporary housing and culinary services. By combining this diverse suite of services with the best talent in the industry, innovative technology and a large inventory of company-owned assets, Cotton has the unique advantage of offering clients a total solutions package in support of disaster events and large development projects.
COMMERCIAL TURNKEY PROJECTS & SOLUTIONS
Cotton's biggest goal is to get commercial properties & public partners back up and running as quickly as possible following a catastrophic event or renovation project. To allow for this quick turnaround, we provide turnkey projects and solutions with each Cotton subsidiary. They work together to ensure business continuity and a seamless flow from stabilization to total recovery of facilities and operations. Beyond disasters, Cotton provides comprehensive logistical support solutions and consultation to a host of local and international clients including Fortune 500 companies, oil and gas corporations, private contractors and government agencies.
For immediate assistance, CALL 877.511.2962
Whether you're a local business in the heart of a city or have a distant remote site that's difficult to access, specialized crews are committed to reaching you and responding to your business needs. Response teams are available 24/7 and assets are ready to deploy whenever and wherever needed.
The Cotton Companies
Cotton is a leading infrastructure support services company in the $20 billion U.S. commercial restoration market, with subsidiaries that conduct business under the Cotton Global Disaster Solutions, Cotton Roofing, Cotton Logistics, Cotton Culinary, OneLodge, Stellar Commercial Roofing, Full Circle Restoration, Advance Catastrophe Technologies, and Target Solutions brands. Headquartered in Houston, Texas, with an International Logistics Center and regional offices throughout North America, Cotton provides property restoration and recovery, construction, roofing, consulting, temporary workforce housing and culinary services to public and private entities worldwide.
Our Global Footprint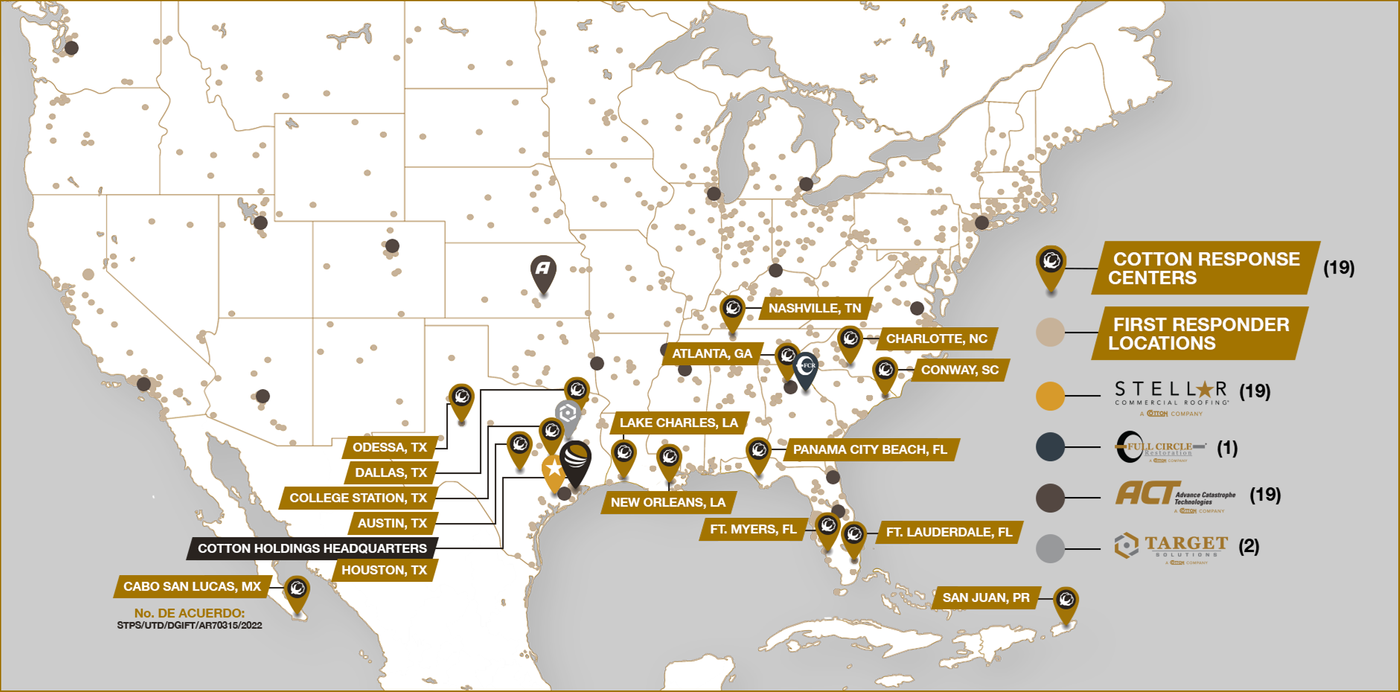 COMMERCIAL TURNKEY SCENARIOS
Following a severe weather event, earthquake, or man-made disaster, Cotton's commercial turnkey projects and solutions can address your disaster recovery needs swiftly and professionally. First, Cotton Global Disaster Solutions (GDS) and Cotton Roofing will work together to stabilize your damaged property before restorations begin. The teams will complete emergency board-up, shoring, and roof tarping to secure your building. Once stabilized, restoration crews will begin cleaning up debris, extracting water, and performing tasks to mitigate the damages caused by the disaster. At this time, the construction and roofing team will also be designing a plan of action to repair or reconstruct the areas of your building that are destroyed.
During restoration and reconstruction, Cotton Logistics can help you restart your business with temporary facilities and resources that reduce operational downtime, including emergency power and potable water. As part of those resources, Cotton Culinary can quickly deploy mobile kitchen trailers and install temporary dining facilities to feed your crews and community during the restoration and recovery process.
For non-disaster scenarios, Cotton's turnkey solutions continue to work together to ensure business continuity during CapEx projects and renovations.
WHY CHOOSE COTTON
Have peace of mind knowing your property is in the hands of one trusted vendor. Regardless of whether the project requires the full suite of turnkey solutions or just one service, Cotton can complete restoration from beginning to end.
We are 100% dedicated to the well-being of your business. Cotton has a 24-hour, vigilant team that tracks weather events and catastrophes around the globe, so you're always informed and prepared for what's ahead.
24/7 Support
When you don't have a moment to lose, the Cotton Companies can be reached urgently at any time, day or night, through our emergency helpline. Reach out to us anytime to talk to a specialist who can help you navigate any challenge or emergency to ensure your business continues to operate at its maximum potential.
Rapid Response
No matter how remote or how far your property or worksite may be, our teams are always on-call to mobilize to you without delay. Our crews are trained in rapid load-in/load-out procedures so that we can start taking care of business immediately and get out of the way as soon as you're ready to resume normal operations.
Worldwide Services
With offices located around the world, we always have resources available no matter where an emergency strikes or a project is planned. Our offices in Mexico can service Central America promptly as does our Puerto Rico office for Caribbean projects, but our international liaisons can provide support services rapidly anywhere across the globe.
25+ Years Experience
After over 25 years in the business, Cotton has established itself as an industry leader in any disaster response, planned project or support service. With decades of knowledge and project experience under our belt, you can count on us to provide the optimal solution for any workforce support scenario, disaster response solution, or culinary service need.
FREQUENTLY ASKED QUESTIONS