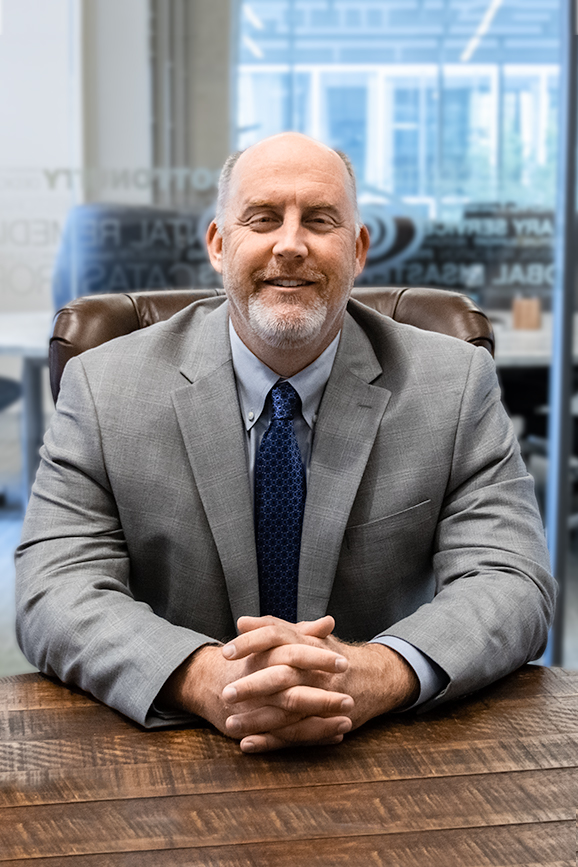 Daryn Ebrecht
Mr. Daryn Ebrecht, along with Pete Bell, co-founded the company in 1996.
Daryn Ebrecht is responsible for the oversight of all company Divisions, including Disaster Restoration, Construction, and Roofing. His primary focuses are the operations departments within Cotton. Houston Operations, which provides commercial restoration and recovery services to the Southeast Texas region, catering to the insurance community, property management industry and a large preferred client base. Similar responsibilities are provided to the National Operations department, which spans the entire U.S. and select international locations.
After seventeen years of operating a national catastrophe company, Daryn also uses his emergency management experience during times of man-made and national disasters such as Hurricane Katrina, the Iowa floods and the Gulf Coast oil spill and most recently Hurricane Sandy. Mr. Ebrecht also has oversight and responsibility for human resource decisions, personnel, asset deployment, and financial oversight.
Mr. Ebrecht serves as the co-founder of the Cotton Foundation. The Cotton Foundation is a nonprofit organization that focuses on the needs of children after disasters have claimed their homes. The foundation collects toys throughout the year to help comfort children and families in these stressful times following a disaster. Mr. Ebrecht received a bachelor of business administration in management from Sam Houston State University in 1988.
Mr. Ebrecht has resided in Katy, Texas with his wife Robin, and sons Brandon, Tanner and Hayden.